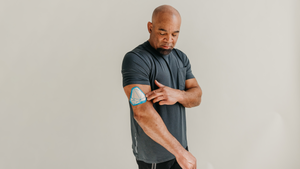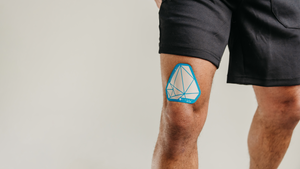 Reusable • Fast-acting • Drug-free relief to aid in athletic recovery
120-Day Money Back Guarantee
Interest Free Financing
1 Year Product Warranty
Clinically Tested
Made in the USA
MEET THE NEW MUST-HAVE FOR ATHLETIC RECOVERY.
The Signal Relief Patch is a reusable, drug-free, and chemical-free way to reduce the impact of pain in minutes. Microscopic particles within the patch act as an antenna to divert signals caused by discomfort, interrupting the pain cycle and allowing your body to more readily return to a balanced state.
Whether you're suffering from sore muscles, nursing an injury, or just need a little help getting back in the game, Signal Relief provides fast, lasting relief without the need for batteries, wires, or medications of any kind. Simply situate the patch over the source of the most intense discomfort and secure it in place using the included adhesive or your favorite athletic tape.
REUSABLE

One patch will last for years with average use.

DRUG-FREE

Enhance your recovery without the need for harsh drugs or oily ointments.

FAST-ACTING

Most individuals experience relief within 10 minutes of placing the patch.

MADE TO MOVE WITH YOU

Each patch is made of durable, water resistant material designed with flexibility in mind.
ELITE RELIEF IN 3 EASY STEPS
1. Locate the source of your pain
2. Secure your Signal patch directly over the area, or slightly above
SHOP SIGNAL NOW
3. Experience relief in as little as minutes!
WE'VE EARNED OUR BRAGGING RIGHTS 🏆
★★★★★

I experienced a change immediately the day I started using it. It not only helped with the pain but also with swelling. I'm a firm believer of this patch and all that it can do for you.
★★★★★

Pain management is key to help my athletes stay on the field and Signal Relief is a key component in my tool box for treating their pain. I am grateful to Signal Relief and the many benefits.
★★★★★

It has helped eliminate some major pain, so that I could perform at a higher level. It has completely changed the way I feel when I play.
★★★★★

Putting the patch on my forearm I've been able to feel a big difference allowing me to manage the pain and stay on the field. The Signal Relief patch really does work.
★★★★★

I had tried every treatment option and nothing was working. The patch gave me the opportunity to work my games. I would recommend this product to anyone I can. Wow it really works great.
97% CUSTOMER SATISFACTION • MONEY BACK GUARANTEE • 1-YEAR PRODUCT WARRANTY
Changing the game for athletes everywhere.
Our bodies rely on electrical and chemical signals running through the nervous system for everything. When you get injured or experience pain of any kind, extra energy is created at the source – similar to how a radio creates static. This extra energy creates a pain cycle that runs in a constant loop between the source of pain and the brain.
The microscopic components within the Signal Relief patch work like an antenna to interrupt the pain signal and allow your body to more readily return to a balanced state.
We often tell our customers that you can use it until you lose it. The Signal Relief patch is built to last well over a year, as long as you take good care of it and keep it clean! If treated properly, the technology inside the layers of the patch can last for years. We offer a one year warranty if for some reason your patch needs to be replaced within the first 365 days.
Since there is no medication in the patch and nothing going into your body, there is no limit to how long you can wear it! Some people prefer to keep the patch on for only a few hours at a time, while others will wear it for days on end while symptoms persist.